Welcoming and focused around you.
Experience an Unmatched Community and Exceptional Golf at Your Premier Golf and Country Club in Naples, Florida
First-class amenities
tailored to you
Premier 18-hole walkable
golf experience
A community to create
memories with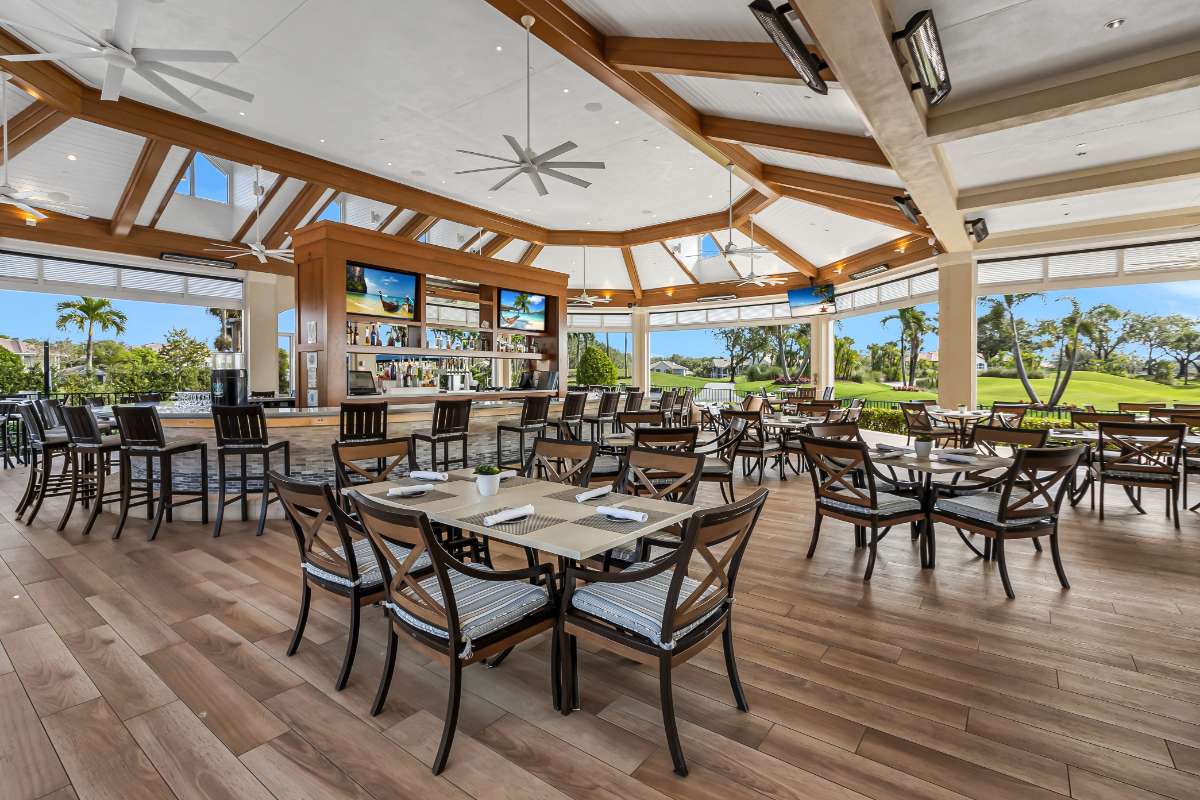 In Naples, you have many choices in private clubs.
You deserve the best.
At Kensington, we understand finding the right club can feel overwhelming amidst numerous options available in Naples. That's why we go above and beyond to ensure that your experience at Kensington is nothing short of extraordinary.
We believe that your club membership should be tailored to your needs, providing you with a sense of belonging, exceptional amenities, unforgettable events, and, of course, a premier golf experience.
Honoring our past. Building for the future.
All with you in mind.
The 2024 Exceptional Experiences Master Plan includes a meticulously designed Clubhouse renovation with beautiful views of the 18th Hole, offering vibrant casual dining space with indoor and outdoor seating options.  The Clubhouse renovation also includes redesigned locker rooms, massage and spa rooms, and community areas.  The pool renovation will include lap swimming, zero entry, additional lounges, and restrooms for a more enhanced level of service. Our Court Sports will be expanding to include 2 more pickleball courts for a total of six and will accommodate the rapid growth of the game and increased interest from new to experienced players.  The Golf Shop renovation will give Members access to a broader selection of merchandise and an expanded bag room.
From the moment you set foot on our grounds, you'll feel the warm embrace of our inviting elegance.
Here, we celebrate the joy of togetherness. Indulge in the heartwarming flavors of our first-class cuisine. Share laughter and stories with fellow Members and friends (kids and grandchildren) as we believe in creating cherished moments for all ages.
Nestled in the heart of Naples, we're conveniently close to everything your family enjoys – shopping, dining, Fifth Avenue, and the pristine Gulf Beaches.
Robert Trent Jones Jr. Golf Course
Our golf course, designed by renowned architect Robert Trent Jones Jr., is not just a place to play but a space to connect with loved ones. Known for its pristine greens, strategic layouts, and breathtaking views, it's a place where generations can come together to enjoy the outdoors.
As one of the rare walkable courses in the area, you'll have the joy of immersing yourself in the natural beauty that surrounds each hole.
At Kensington, we understand that golf isn't just a game; it's an opportunity for family time and connection. 
Unforgettable Connections
At Kensington, we understand the importance of fostering a sense of community and creating opportunities for meaningful connections. Our calendar is filled with an array of exciting events and activities, carefully curated to cater to diverse interests and preferences. Whether it's a lively social gathering, a themed dinner party, or a charitable event, there's always something happening at Kensington that will captivate and engage you.
Beyond the extraordinary events, Kensington offers a welcoming community that embraces both newcomers and long-standing members alike.
Experience the warmth and camaraderie as you forge friendships that will last a lifetime. Our members are the heart and soul of Kensington, and we take pride in creating an inclusive environment where everyone feels like family.
Moving to Naples?
We have the community for you.
One of the biggest challenges when moving to a new place can be finding a community and friends.
Our community is full of like-minded individuals who share a passion for sport, wellness and social activities. You'll have the opportunity to attend exclusive events, network with other Members and make new friends in no time.
Family generations of all ages are joining our community and can enjoy outdoor activities all year round. Imagine playing a round of golf on a sunny day or enjoying a refreshing swim in our pool. And the best part is, you'll be doing it with family and friends.
Explore the opportunities and excitement that come with a membership at Kensington.
1.Take a Tour and
explore Kensington
Take a first-hand look at all the amenities, meet our team, and get a feel of our community.
2. Choose a membership
that fits your lifestyle.
Our membership director will help you find the right type of membership for you and get you integrated into our thriving community.
3. Enjoy a club focused
around you.
Immerse yourself in the unparalleled amenities, indulge in our premier golf course, and experience the vibrant social life paired with our exquisite cuisine.
Don't join just any club…
At Kensington, we believe in creating cherished memories, forging lasting friendships, and making every moment count.